Experiment with Settings
Your post-processing tool of choice probably has a selection of presets from which to choose. While these can be helpful starting points, you're nowhere near reaching the full potential of the image if you simply select a preset and are done. The true power lies in the fine tuning of settings.
The great part is you don't even really need to know what you're doing. One of the most effective – albeit slightly less efficient – methods is to over-apply a setting and then bring it back until it's at a reasonable level. Basically, you're jacking the slider way up to get an idea of the effect it has, and then scaling it down until it looks good. For example, in Photomatix, pull the color saturation up high, let the image update, and then take the slider down near 30%. This gives you a visual preview of both options and lets you decide which you like better, then allows you to fine tune to get it to the perfect place.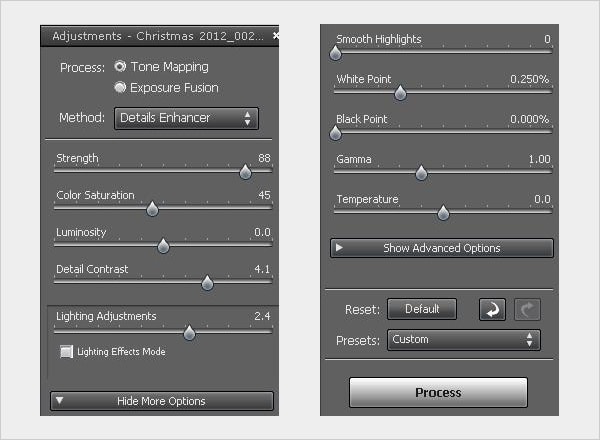 Strength, gamma, luminosity – these are also powerful settings that have a drastic effect on your image. Don't risk just leaving them at the default level; instead, experiment with their values and find the sweet spot for that particular image. Remember: no two images are exactly the same, so to get the best results you need to fine tune your HDR settings for each one.